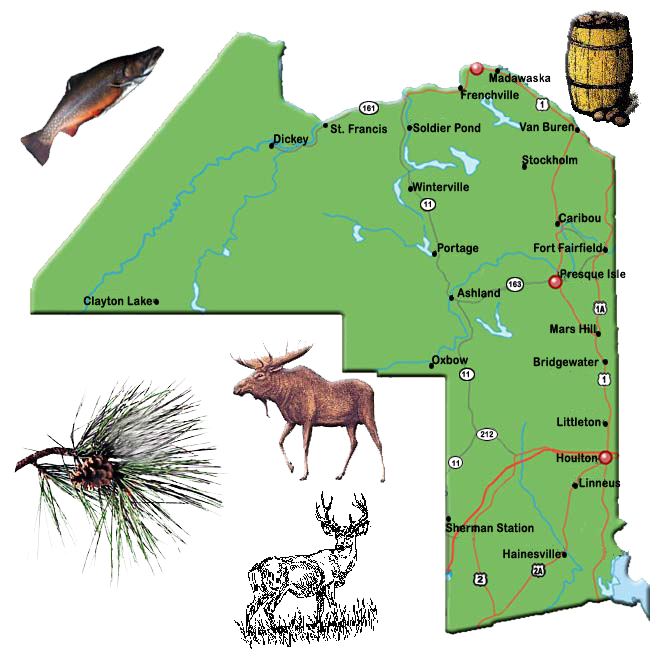 At Big Bear Real Estate Company we cover a lot of ground in Aroostook County. We represent sellers and buyers from Houlton, north to Madawaska and all points in between. Our experienced group of Realtors have lived and worked in many of the cities and towns in Aroostook County. We also have family ties and friends in just about every town in this, the largest county of any state this side of the Mississippi. We also now have an agent in Sountern Maine! Alex Willette can now represent buyers and sellers in the Lewiston/Auburn and Augusta areas and all surrounding communities.

* Aroostook County Population: 73,938 - US Census Bureau Data 2000
* Population is 5.8% of the state's total population
* Originally part of Washington and Penobscot Counties
* Aroostook is named for an Indian word meaning "beautiful river"
* Incorporated March 16, 1839
* Contains 2 cities, 54 towns, 11 plantations, and 108 unorganized townships
* Density is 11.1 persons per square mile
* Area - 6,672 square miles (21.6% of the state's area): 89% of the County's area is forest, 1% lakes, ponds and rivers, 10% cultivated farmland
* Houlton is the Aroostook County seat with offices in Caribou and Fort Kent
* Maine's northernmost county bordered to the east, west and north by Canada
* Aroostook County is larger than Connecticut and Rhode Island combined
* Major crops: broccoli, potatoes, hay, small grain rotation crops
* Site of two transatlantic balloon crossing launch sites
* Aroostook County is home to the Allagash Wilderness Waterway
* Best real estate company in Aroostook County? Big Bear Real Estate Company!